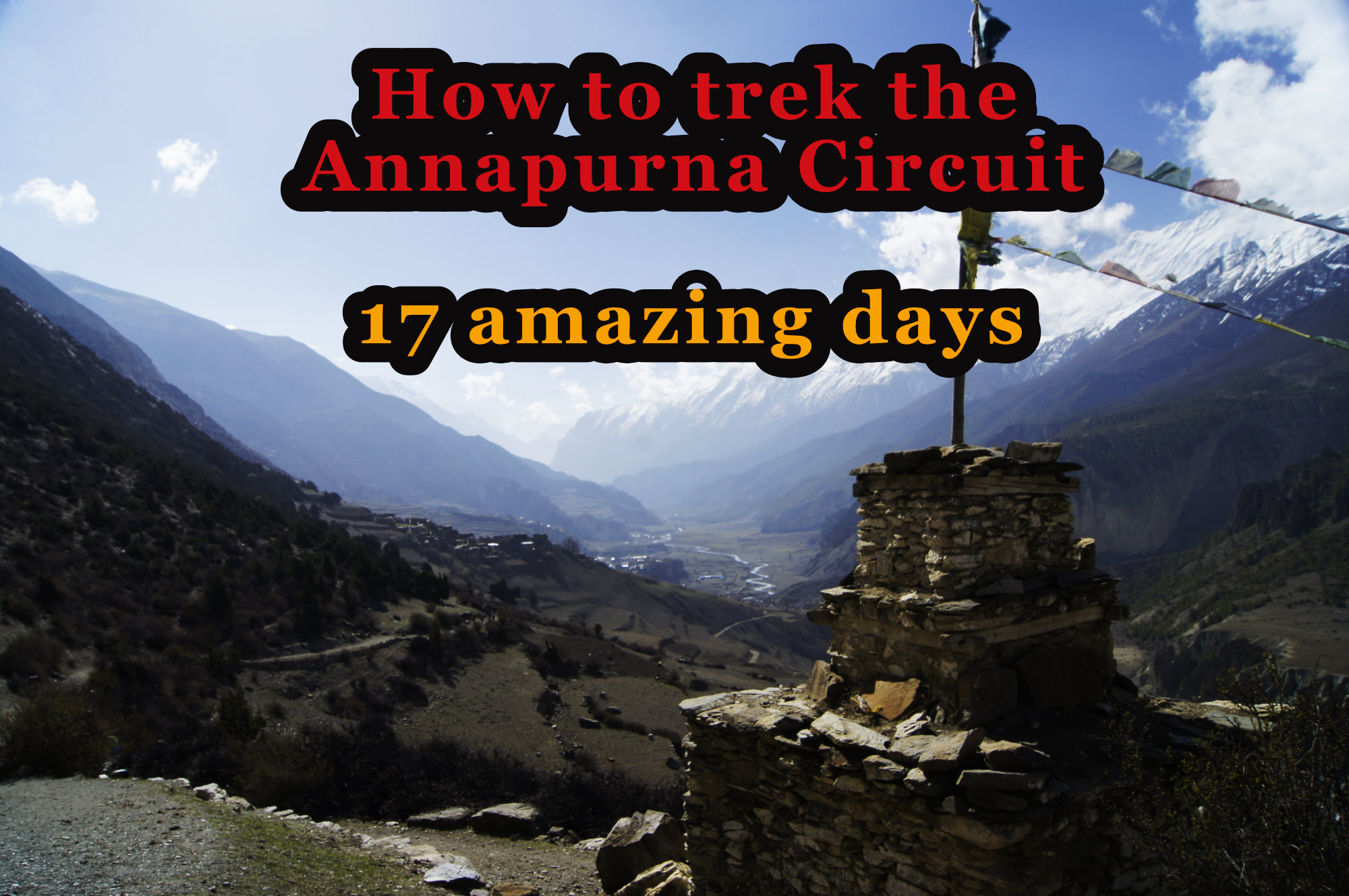 How to trek the Annapurna Circuit - 17 amazing days
I feel my heart beating with full force. It races. Slowly the fear of not making it rises. Only 116 meters and the Thorung La pass on the Annapurna Circuit trek is crossed. But I feel my heart beating faster than ever. The high altitude sickness crashes in with full force at 5300 meters. We can only walk a few steps and have to catch our breath and breath again. I concentrate on breathing in and out. This calms me down.
Should we turn back? No way. Now we've been struggling up here for hours and days, and we'll make the last 116 meters.
The last meters drag on. One hill after the other appears in front of us. But we still can't see the highest pass in the world. A cold wind blows in our faces. And then we see them. The prayer flags. We have arrived. 5416 m. Thorong La pass. The tears are flowing. For days we were all feverishly waiting for this crossing. The feeling of happiness slowly rises. We have made it.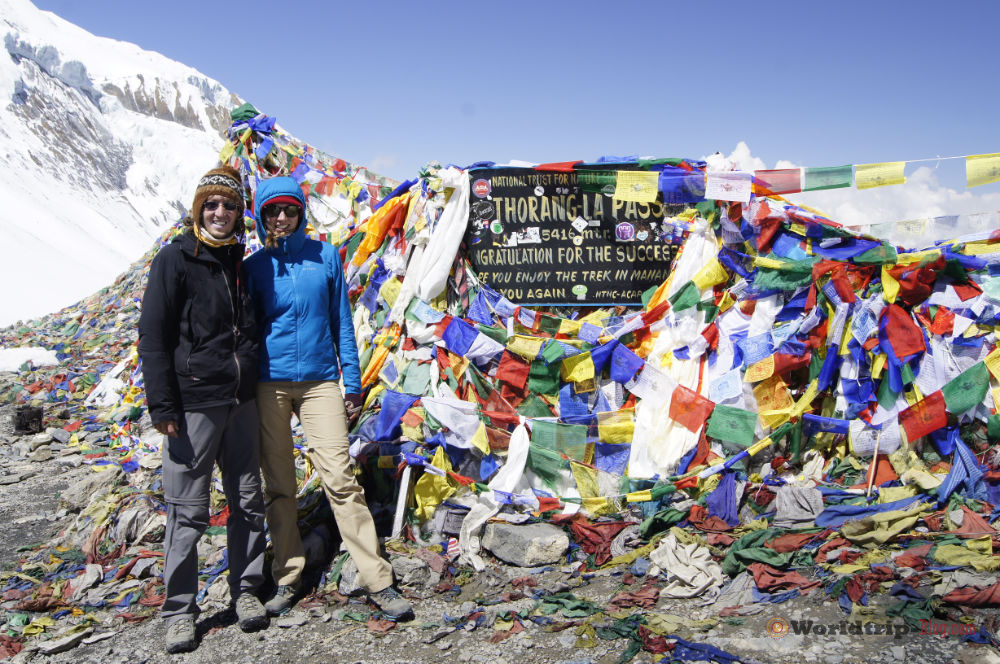 The Annapurna sanctuary trek is considered one of the most beautiful and challenging hikes in the world. An immense varied hiking tour is waiting to be discovered. Update 2022: Unfortunately, a road is being built and it is now possible to cover large parts by jeep. However, the inhabitants are doing their best to offer alternative routes. These routes are not yet fully developed. This will take a few years. So, unfortunately, parts of the route have to be covered on the dusty road crowded with jeeps. The alternative routes are generally always highly recommended. Unfortunately or fortunately, these are much more strenuous and are therefore not hiked by many trekking agencies. That is, they are quieter, more pleasant and not so crowded. The views and untouched nature on the alternative routes compensate for any effort. The road goes completely to Manang 3530 m. However, due to the altitude acclimatization, you should not go directly to Manang. Avoid the jeeps to Manang. Go hike the alternative route instead.
In this travel guide for the Annapurna Circuit you will find all the information that was important to us on our trip.
Annapurna Circuit Travel Guide
About
The Annapurna Circuit is one of the most diverse and exciting treks in the world. If you look at the top hiking destinations in the world, you will always come across the Annapurna circuit Trek. No question about it, it is extraordinary. A stunning landscape meets a unique culture. Surrounded by the highest mountains in the world, the light radiates to all the world. An Annapurna circumnavigation is not just an excursion around a mountain, but always an inner journey, an inner challenge. Physically and mentally the trek will put you to the test. Always accompanied by extreme feelings of happiness and abandonment. The Buddhist richness of the Mustang region is incredible. You will find deeply devout, warm-hearted Buddhists, the most beautiful Buddhist monasteries in the northern Himalayas and an enchanting landscape on the trek. Highly realized meditation masters have blessed the region. On various excursions you can visit the caves of meditation masters and feel the energy. You can find some additional hikes below.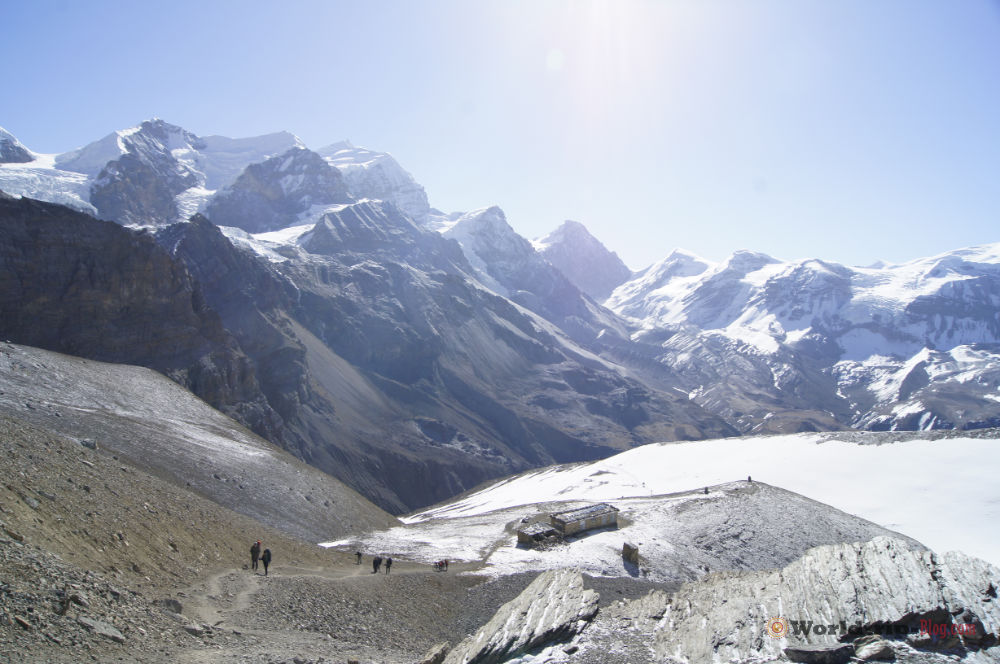 Start: Besi Sahar, 820m
Day 1: Besi Sahar, 820m - Ngadi, 890m 6h on the Alternative Route
The Annapurna Circuit trek starts in Besi Sahar. We took the bus from Pokarah to Besi Sahar at 6am in the morning. This is a long hot bus ride and takes about 4-6h. Anyway when we arrive it is lunch time and there is enough time to start already directly and do some kilometers. Many trekkers already take the bus here and go to Jagath or even further. We would not recommend this in general. There is an alternative route that starts directly in Besi Sahar and you do not have to walk along the road. The alternative route is really very beautiful and relaxing. Just follow the road in Besi Sahar and walk down. Then comes a river and there is a pedestrian bridge. This is the beginning of the Alternative Route. Marked with a red sign. We walked to Ngadi and it took us 6h. Shortly before Ngadi you will already see the first accommodations for free. This is not Ngadi yet. In Ngadi itself there are also some great accommodations. We ended up at the Hikers Lodge. A gifted Buddhist and teacher. The food and garden were world class. You can hear the birds chirping, zips grating and have the classic Nepali village smell in your nose. The accommodation is really recommended. Here we had Dal Bhat for the first time. Dal Bhat is the standard dish on the Annapurna Trek. And it actually tastes different every time. The advantage of dal bhat is that you can get more as long as you want and can eat as much as you want.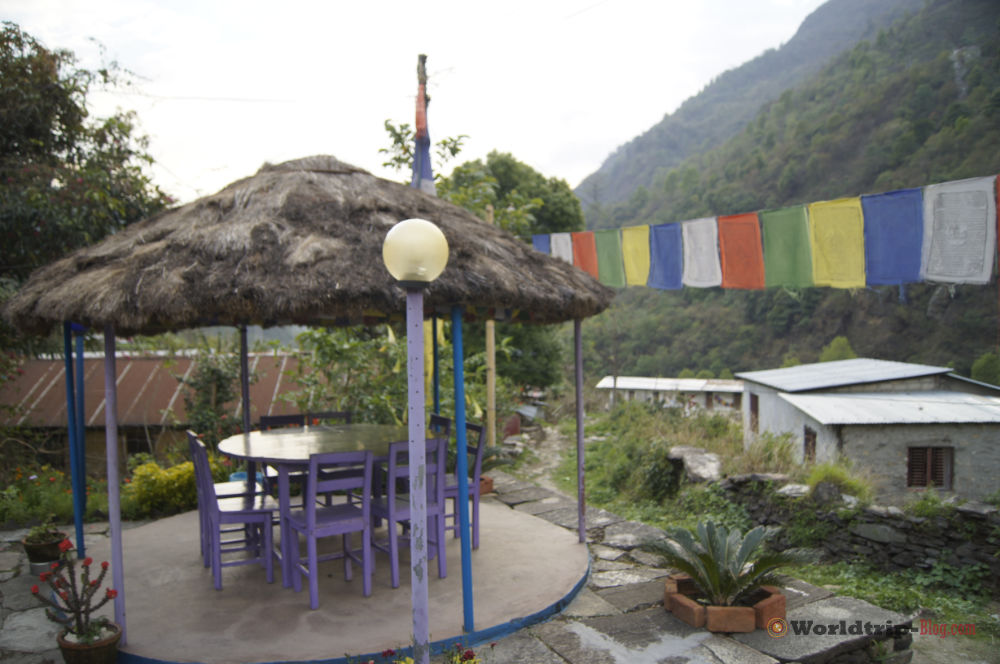 Day 2: Ngadi, 890m - Jagath, 1300m 8h on the alternative route
After a brilliant breakfast with Tibetan bread, honey and jam we started our 2nd day. We took the much longer alternative route, which turns off to the right at the junction. This was definitely the right decision, even though it was very exhausting to walk in the blazing sun. You walked through old, original villages and could enjoy the path, which was anything but crowded. The people were very relaxed on this route. At lunch we had potato curry. Fresh from the garden. In the evening we landed in Jagath and stayed there.
Day 3: Jagath, 1300m - Dharapani, 1900m 8h-12h
This was a pretty heavy day. You have a heavy climb right at the beginning in the middle of the blazing sun. After the ascent you come to a flat plain and to the village valley. There are numerous lodges and you can eat very well there at noon. We continued to Darapani. There we stayed at the New Tibet Hotel, which is quite recommendable. The owner is an older, very helpful Tibetan with lots of stories to tell. In Dharapani itself you can walk high into the mountains, if you are lucky, to the Rinpoches. However, this takes a few hours.
Day 4: Dharapani, 1900m - Chame, 2710m 8h
We took the alternative route again, although it was a bit obscure on this stretch. On the way you walk through a forest with many blooming rhododendron trees. In Chame itself, we went to the New Tibet Hotel right on the river. The guesthouse is world class and has a super location. Very relaxing and highly recommended. In Chame itself there are local snacks again. That means you can eat small things very cheap. In Chame itself it already gets really cold. Winter clothing is definitely needed on the trek. 🙂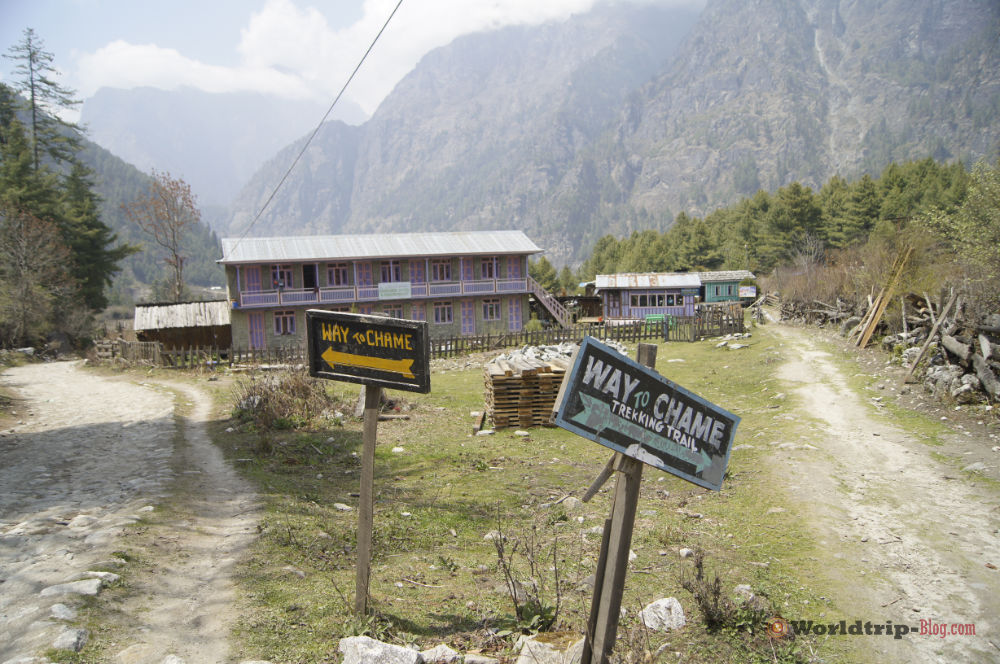 Day 5: Chame, 2710m - Upper Pisang, 3310m 6-8h
From the New Tibet Hotel on the river we started directly. We walked very relaxed. The first breakfast break was in an apple restaurant with donat and cinnamon bun. Very cool. Take in any case the way to Upper Pisang. Forget all thoughts of walking on the road and spending the night in Lower Pisang. The way to Upper Pisang and then on the next day is one of the most beautiful parts of the whole trek. Ignore any guides or other people who try to stop you from walking to Upper Pisang. Even if you think the trail below is more effortless, forget it. You are walking there on a busy road and you almost can't see the Himalayan range. Don't do that. Walk to Upper Pisang. It is gigantic. We had probably our best accommodation in Upper Pisang, or the accommodation with an absolutely unique view. I still can't believe it. An incredible view. We stayed right under the monastery so we could also participate in the morning puja. It is definitely worth it. Awesome. Also worth a walk through Upper Pisang. Here you can walk through narrow streets and participate in village life. The inhabitants are deeply religious Buddhists, helpful and friendly. Absolutely amazing. And the views to the himalayan glacier are absolutely stunning.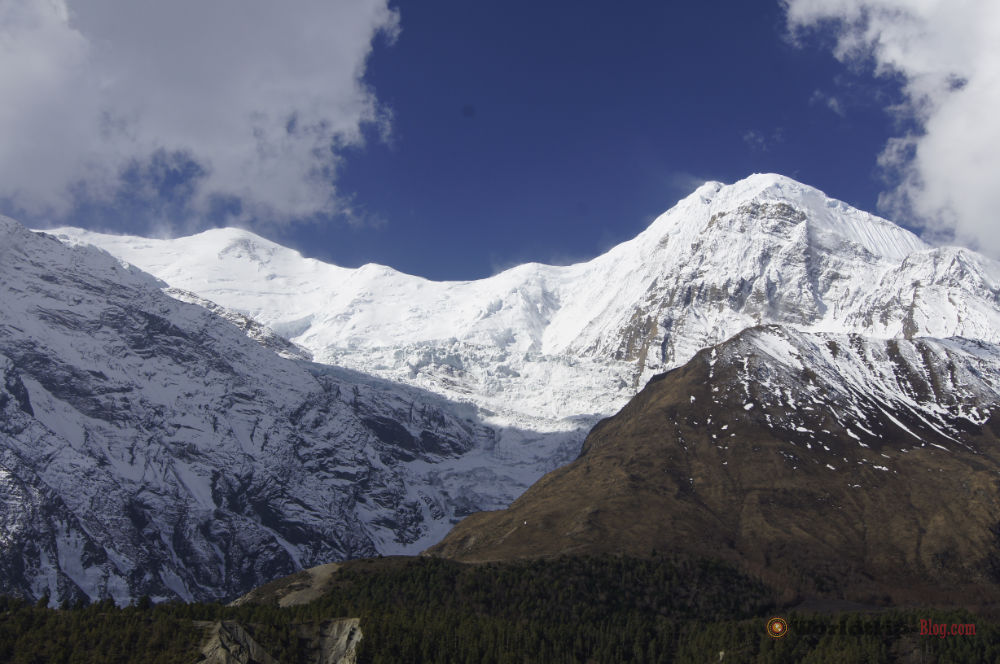 Day 6: Upper Pisang, 3310m - Bragha, 3450m 8-12h
This was one of our hardest days so far. The altitude does the rest and we walked the whole time in the blazing sun. The views, however, compensate for everything. Spectacular. World class. We walked to Ngawal and had our first garlic soup. Garlic soup helps you acclimatize and tastes super delicious at altitude. Here we made a side detour to the Guru Rinpoche cave. It goes steeply up the mountain. The wind almost blows you down the mountain and you have to fight with your thoughts. Just follow the prayer flags and you cannot be misguided. The Guru Rinpoche cave right by the downed stone wall. You cannot miss it. Don't be discouraged by locals. The cave is really there and radiates incredible power. Guru Rinpoche meditated in this cave and some magical things manifested. The side trip took some time. And so we were suddenly quite alone on the trek. The way from Ngawal to Bhraga again really drags. Bhraga is about half an hour before Manang and it is a great place to spend the night. Manang can get pretty crowded and is not really worth it. Bhraga has a lot to offer, because several day trips start from here and you can visit the ancient and enchanting monastery. It is much more relaxed than Manang. The accommodations also seem to be cheaper than Manang.
Day 7: Bhraga, 3450m - Manang, 3540m 0,5h
This was our acclimatization day. We walked from Bhraga, without luggage, to Milarepa cave. Milarepa was a highly realized mediation master, poet and singer. One of the greatest people who ever lived. His chants are world famous in Tibet and the Buddhist world. The way there is quite impressive. At the cave itself you can walk even higher and you will come to the glacier. World class. Incredible views and the place has an intense spiritual energy. A perfect acclimatization day.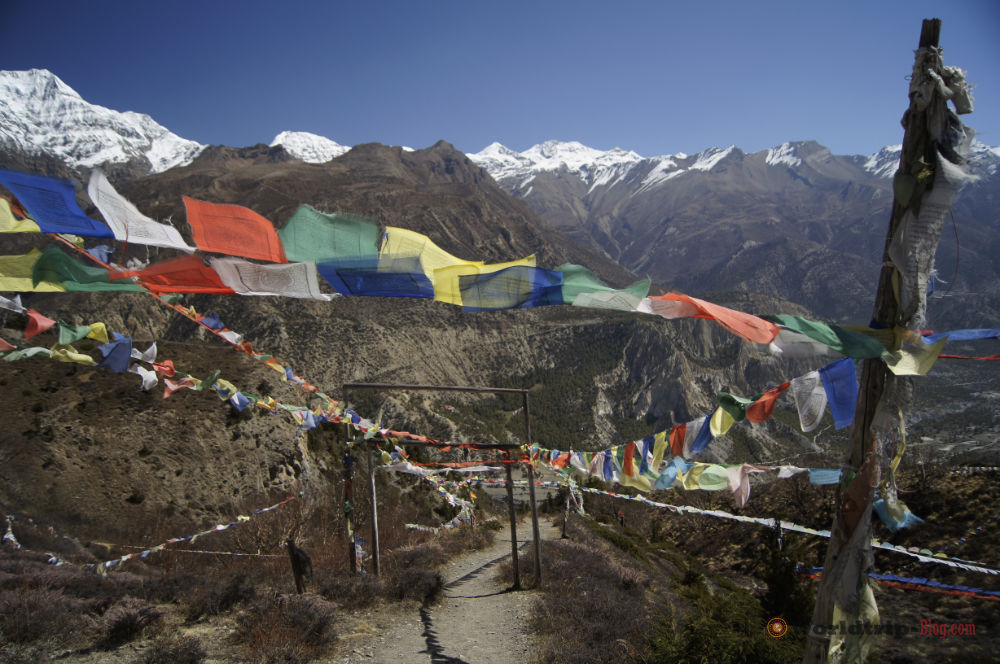 Day 8: Manang, 3540m Acclimatization Day
On our acclimatization day, we didn't do that much. We walked to a gompa at 3900m and got the blessing for the pass crossing from a nun in a retreat cave in the mountains. An incredible experience. On the way back we looked at more gompas, which were pretty impressive. In the evening we did a lot of shopping for the pass crossing, because there is still a lot to buy in Manang. We stocked up on yak cheese, garlic bread and cakes.
In addition, we also attended the daily information session of the volunteer doctors on altitude sickness. This is definitely worthwhile.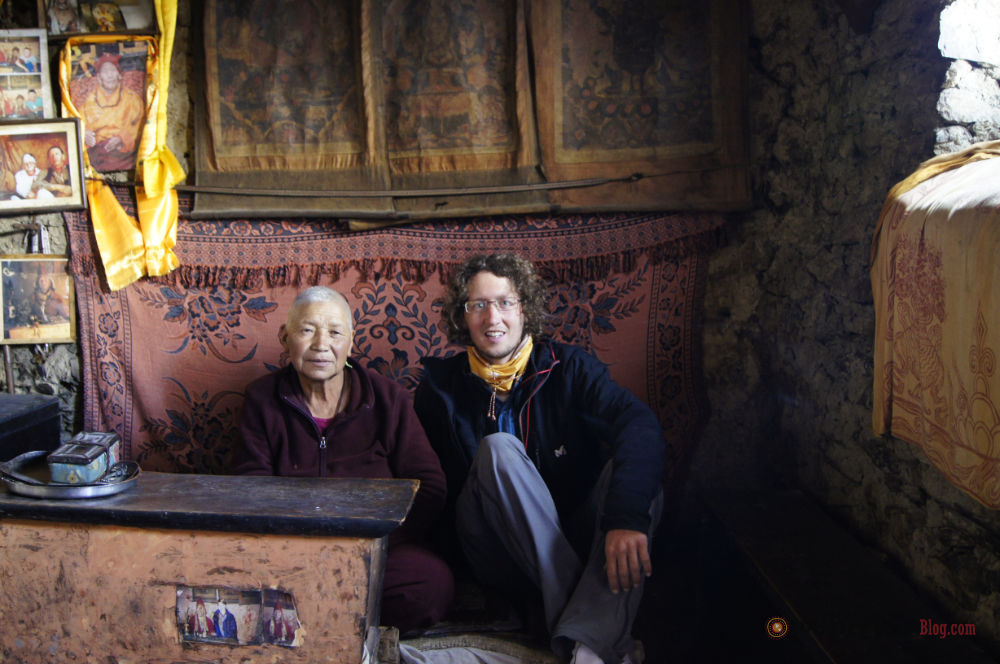 Day 9: Manang, 3540m - Yak Kharka, 4050m 3h
Off we go. The weather is supposed to be quite good the next few days and there is nothing to stop us from crossing the pass except ourselfs. The day after Yak Kharka is a very relaxed day. Because of the altitude and the altitude sickness we decided to walk only until Yak Kharka. In Yak Kharka the hygienic conditions are also much better than in Letdar. Therefore we recommend you to stay overnight in Yak Kharka. In Yak Kharka it was bitterly cold. Especially because we walked only 3h to Yak Kharka. That means we had a lot of time to write diary, to read and to eat. But this also means that you're not doing a lot and soon it is pretty cold.
Day 10: Yak Kharka, 4050m - Thorang Phedi, 4450m 3h
The altitude is now becoming more and more noticeable. Everything becomes much more strenuous. We arrived in Thorang Phedi at 10 o'clock in the morning. It is our last stop before crossing the highest point of the trail. Of course we first had a garlic onion soup. Thorang Pedi fills up relatively quickly. That means you should start early to get a place in Thorang Phedi. If it is full, you have to walk up to the High Camp and hope that there is still room. The High Camp, 4800m, is located relatively high and many have to descend with headaches on this day. All lodges of Thorang Phedi were full in the evening. We walked up to the High Camp on the same day to push acclimatization. The view from High Camp is spectacular. You can also walk up to a viewpoint and have an incredible view over the Himalayas. You can feel the altitude. A strenuous climb.
We spent lunch and dinner in Thorang Phedi playing games and eating. World class.
Day 11: Thorung Phedi, 4450m - Thorung Pass 5416m - Muktinath 3800m - 12h
A tough day. The night was quite heavy and there was little sleep. We got up at 4:45, had breakfast and then started walking at 05:30. Of course we were not the first ones. Many are already walking up in the dark. The first ascent to High Camp was doable. We already knew the route from yesterday. It took about 1h. From 4800m it became harder and harder. The higher it went, the slower we became. The height was really hard on us. I had never experienced that before. Even with the mountain climb in Bolivia at 6088m, I had less problems. The altitude sickness hit full force at some point. Headache, heart palpitations. The full program. I was about to descend again. However, that would probably have cost too much energy. There was only one goal and that was to cross the pass. And so we walked on. Higher and higher. The whole stretch is incredibly long. At this altitude you can only walk a few steps and then you have to catch your breath again. A goal is unfortunately also not to be seen, since it is not a mountain top one climbs, but "only" a pass. It was crazy. Then finally the prayer flags. We have arrived. 5416m. Thorung La. Took a few pictures, enjoyed the view, indulged in a chocolate and then it was time to descend. We have to descend urgently. The descent is really long again. But with every step it gets better. It goes deeper and deeper down and you can slowly breathe properly again. The feeling of having made it drives us on. Always further. Until after long hours we finally arrived at the first houses. Charabu 4200m. Here we eat something. It was hard. Much harder than we would have imagined. From Charabu 4200m we still drag ourselves to Muktinath, 3800m. A very spiritual pilgrim town with super accommodations and a somewhat hectic atmosphere. We have arrived back in civilization. Here again there are cars, buses, etc. The full program. A good place to stock up on yak scarves. In the evening, of course, we fell into bed completely tired.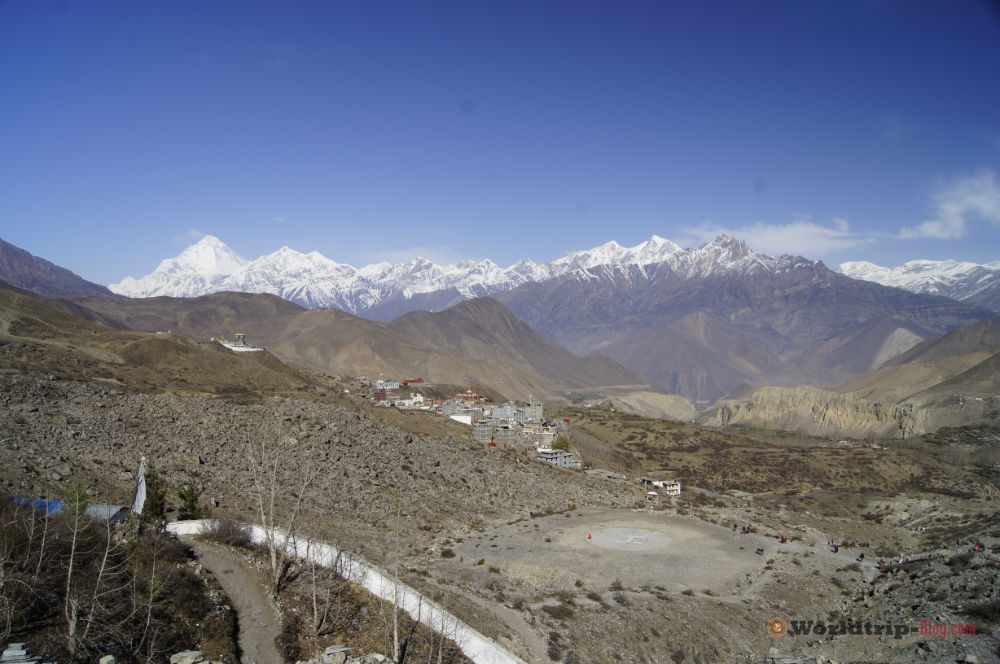 Day 12: Muktinath, 3800m to Kagbeni, 2800m 6h
After a sightseeing tour in Muktinath we left. This time the way leads along the road to Jargot. In Jargot we stayed in a monastery where there is a Tibetan doctor. We were warmly welcomed and also had a medical examination. It was a great experience. The Tibetan medicine is incredible. We were also shown the monastery with the Tibetan medicine museum. On the road we continued to Kagbeni. A great city with many small alleys. We stayed at the Shangri-La Hotel and had a great view over the city and the temple. The temple complex is about 1400 years old. The temple complex has survived all earthquakes. World class.
Day 13: Kagbeni, 2800m - Marpha 2670m 8h
We took the alternative route to Marpha. The route was quite hard. The pass crossing was still in our bones and so the alternative route was quite exhausting and poorly signposted. At some point we actually found Marpha with a huge appetite. Unfortunately, we had to wait 2.5 hours for the food. In the monastery in Marpha meditation teachings take place. That is awesome.
Day 14: Marpha 2670m - Ghasa, 2010m 8h
In the morning we spent the day in Marpha and then had to take a bus towards Ghasa due to time constraints. The bus ride was pretty crazy with celebrating Nepalese. There was singing and dancing. It was pretty funny. Until the bus couldn't continue due to stone chips on the road. We then packed our backpacks and continued walking after all. In Ghasa we then found a relaxing place to stay.
Day 15: Ghasa, 2010m to Tatopani, 1200m 6-8h
It went on the alternative route all downhill to Tatopani. A super nice route. It was getting warmer and greener. The villages are simple, with lots of animals and agriculture. The typical country air smell is in the air. Tatopani was ok, but is not exactly an overwhelming village. One does not have to have seen. If you don't have a problem with crowds in the water, you can also visit the hot springs.
Day 16: Tatopani, 1200m to Ghorepani, 2870m 6-8h
A total of about 1700m elevation gain but due to the low altitude a pretty relaxing route. Here, however, we had a lot of rain and thunderstorms. So that the fog has completely covered the Poonhill. That's why we finally didn't ascend the next morning, but we went on our way back to Pokarah.
Day 17: Ghorepani, 2870m - NayaPul 1070m 6h
Since the Poon hill was completely covered by fog we started directly to NayaPul 1070m. On this route there are also a lot of day tourists. A day that drags on because we are already looking forward to Pokarah.
From NayaPul we took a bus back to Pokarah. Done. We are looking forward to a shower, great food and a relaxing time in Pokarah. We had an absolutely amazing trek. It is so wonderful. I still can't believe it.
Road for jeeps
Unfortunately a road has been built in the last years and so it is now possible to drive by jeep to Manang. This is m.e. for the Buddhist culture and the extraordinary trek itself a disaster. Alternative routes are being built, but it will take years until they are really completed. Until now you will have to walk on the road every now and then. Who knows the Nepalese jeeps and the dust on the road will not be surprised about the diesel smell in our country. Many trekkers now let themselves be driven at least to Jagat. The beautiful alternative path at the beginning is often bypassed.
The trek has also become famous because of its remoteness. Now it becomes more and more possible to drag tourists in jeeps. In Muktinath you can take a bus anyway. Even to Pokarah. Personally, I don't like the road building. Also, many locals are not happy. Especially in the beginning we often heard from the locals, "the road is destroying us."
The trek is not what it used to be. Many trekkers are now switching to the Nar Phu Valley, Manaslu Circuit, Tsum Valley and Upper Mustang Trek. Unfortunately, you need more expensive permits or have to have a guide with you. Nevertheless, Annapurna remains an exceptional trek and is highly recommended.
Summary
The Annapurna region has one of the greatest hiking trails from around the world. The Annapurna circuit trek is one of the best hiking trials I've ever done. We had such an amazing time in Nepal and would definitely come again. The landscape is fantastic. You start in low alltitute and cross over 5400 meters. Everyday had something to offer and I personally felt in love with Nepal, it's culture and the Nepalese people. It is a tough hike and personally was surprised how hard it really was. But every pain is worth it and I highly recommend this trek to everyone. Can't wait to be back in Nepal.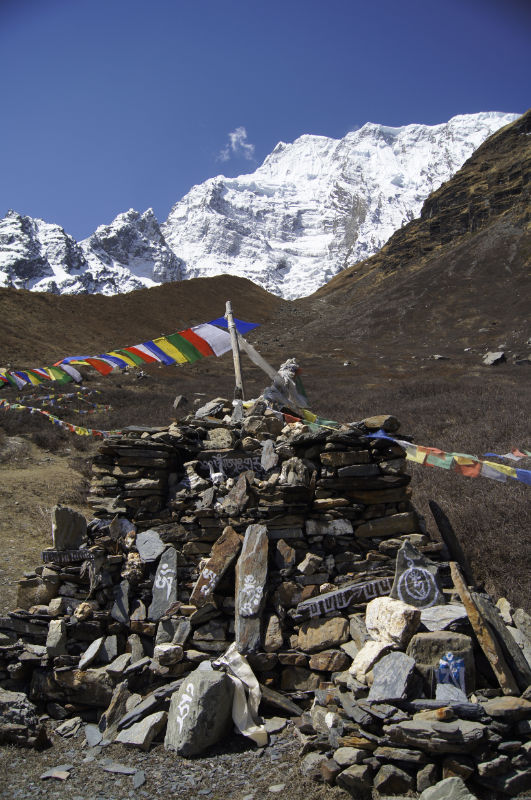 Packing list for the Annapurna Circuit
The most important thing is to carry as little weight as possible. Every kilogram you feel on the height. As a guideline, 10kg per backpack is quite sufficient. The less the better. But of course you should pack enough warm clothes. It is bitterly cold on the trek. We used the onion principle and washed clothes by hand when necessary.
Our packing list:
Sleeping bag (minimum comfort temperature -1 degrees) - down sleeping bags can be bought in Kathmandu or Pokarah if necessary. For around 60$. The quality is modest.
1 softshell jacket or similar
1 fleece jacket
1 thermal underwear top / bottom
1 fleece sweater
2 t-shirts
2 shirts
1 undershirt
5 trekking socks
5 underpants
1 pair of gloves
2 walking sticks (available for 5-10$ in Kathmandu or Pokarah - definitely worth the money)
Diarrhea medication (charcoal tablets, Imodium, electrolytes)
First aid pack (emergency blanket, plaster, blister plaster, disinfectant spray etc.)
Hydration pack + this water filter (best decision, saves plastic bottles and massively less spending on Water. The water in plastic bottles is expensive and harmful to the environment on the trek).
Book/books or Kindle to read
Hygiene bag (toothbrush, shampoo etc.)
Portrait Photos of you for the permit
Map for Annapurna Circuit (can be bought in bulk for $5 in Pokarah or Kathmandu. Does not need to be bought beforehand)
Altitude profile Annapurna Circuit
Here is the official altitude profile with walking distance of the Annapurna Circuit. The trek is run counterclockwise and thus you have the easiest ascent to Thorung La Pass. Check out the official document from the Annapurna Conservation Area Project in our downloads.
Best time to travel
The main travel season is October - November. Low season is March - May. We were in May and it was really nice. We only had bad weather at the end over Poonhill.
FAQ
How to trek the Annapurna Circuit - 17 amazing days
It took us 17 days. In general you should plan at least 18 - 21 days. There are incredibly beautiful additional routes that you can explore outside the trek. You will only notice them on the way. Or you hear from other travelers about incredible hikes or have to take a few days off for health reasons.

In total you cover about 211 kilometers. However, only if you walk on the road. The alternative routes are longer and take more time. Thus, more kilometers are added.

That depends on you. There are days when you run a lot. At least 8h. Anyway, you should not underestimate the altitude. In general you should not sleep more than 400 meters of altitude per day higher than the day before. That means there are days when you don't even walk that much.

In general, to prevent altitude sickness, from 2000 meters of altitude 400 meters of altitude per day. Here, the altitude meters are valid for the overnight stay.

Of course you can hike the Annapurna Circuit without a guide. The trail is very well marked and if you are not sure, just ask the locals or other trekkers where to go. Most of them will guide you in the right direction and show you the way. On the trek you will meet many other hikers and therefore it is absolutely no problem to walk the trek without a guide. However, it is generally recommended not to walk the trek completely alone. You are in the high mountains and should always have someone with you. Who can get help in case of emergency or otherwise be at your side. This is a high mountain trail and is not only close physically, but also to your phsychical capacity. Being able to exchange ideas with others is worth its weight in gold. We ran the trek without a guide or porter and it was world class. You are free and can go your own way. The trekking agencies usually don't run the alternative routes either, at least what we observed, and thus parts of the most beautiful routes are left out. Don't let other guides make you feel insecure. Go your own way. Especially the trail to Upper Pisang is to be preferred. Here it can happen that guides want to stop you from going your way. Don't get confused and take the trail to Upper Pisang. This is one of the most beautiful parts of the whole trek.

This is a high mountain trail. You should be at least two people. One can get help in case of emergency and you will not be alone. Of course, there are many hikers on the trail, but it is also common that you walk alone for hours.

In general, you should check the weather before going up from Manang to Thorung La. Do not go on if it is snowing or bad weather is predicted. The horror story of 2014, when a sudden snowstorm surprised hikers and killed several people, is not forgotten.

It depends on whether you want to go with/without guide or with/without porter and on your negotiating skills in Pokarah or Kathmandu. Generally, they say it costs $30 per day/per person with guide. Porter cost extra.

Yes, of course. It will be bitterly cold on the Annapurna Circuit. Some guesthouses are not heated and you will freeze to death. Believe me it is cold as hell. Have a look at our packing list. If you don't have enough, buy a down jacket in Pokarah or Kathmandu. Especially it will be cold if you sit around. And the days before the pass crossing are unfortunately very cold and you walk relatively little, because of the altitude acclimatization. Thus, if you are lucky, you sit in a heated inn. Unfortunately, this is usually heated only in the evening. At noon you should rely on your warm jacket and snuggle in. My goosebumps come up again when I think about how cold it was.... :)

Absolutely not. You usually get the accommodations for free if you eat dinner and breakfast at the accommodation. And if you pay something for the accommodation, you usually don't pay more than 2-3€ per room. Carrying a tent is not worth it on the Annapurna Trek. Unless you want to go up or down to remote areas.

No, this is a Tea House Trek. That means there are lodgings everywhere where you can stay and eat. Generally, the food costs the same everywhere in the individual accommodations of the respective place. There is a monopoly which is set by ACAP, that everywhere similar prices for food and accommodation are set. A meal costs about 3-4 euros.

It depends on your food and drinking habits. :) As a budget traveler you need about 2000 Nepalese rupees per day on average. If you are a beer drinker, you will need significantly more. The beer is relatively really expensive. However, due to altitude sickness, you should reconsider your beer consumption. There is no ATM on the trek and payment by credit card is not possible. So you should bring enough cash from Pokarah or Kathmandu.

Mostly beer is available as alcoholic beverages. However, due to altitude sickness, you should avoid it. Caffeine and alcohol promote altitude sickness and are not recommended. Alcoholic beverages are quite expensive and if you really need it, you should include it in your budget.

I would not recommend it to you in general. Rather enjoy the unique fresh air in the Himalayas and keep a clear mind. In Nepal, cannabis grows as weed everywhere and became world famous on the Hippie Trail. Thus, there are also people who have made it their life's work to cultivate the stuff and offer it for sale to others. Yes even on the trek.

It is definitely more dangerous than I would have thought at the beginning. Altitude sickness is a factor that should not be underestimated. And especially if you are coming straight from home. Plan enough time for acclimatization. In addition, there is always heavy rockfall. Be it on the road, that whole roads are closed or on the trek itself. We also narrowly escaped a rockfall. One day before crossing the pass. We overlooked the mountain goats and suddenly stones rolled down from above. In front of and behind us. That was a close call. On the alternative routes there is generally less space and it can be that you run close to the abyss. One wrong step and that's it. So you should not underestimate the trek and use common sense. A Dutch woman is still missing in the region. She has been missing since February 2018. Thus, do not underestimate the high mountains and the weather. Especially on the Thorung La, the whole thing can change quickly, as in the tragedy of 2014.

It is not a problem to find a room on the Annapurna circuit trek. There are plenty of guesthouses in the Annapurna region. In every small village there is a place to stay. However, we were traveling in the low season. But even in high season, I find it hard to imagine room problems. In Manang, the guesthouses can also get full, as many want to stay a few days in the Manang area. Here you can then simply go to Bhraga or maybe that is even preferable. When crossing the pass, however, it can be quite crowded. Here you should look for a place to stay early. Pre-booking is not necessary. Probably it is not possible either. There are a lot of guest houses in the.

Permits can be easily applied for in advance in Kathmandu or Pokarah. Just go to the ACAP (Annapurna Conservation Area Project) office or if that is too much work for you, the numerous tour operators in Kathmandu or Pokarah can do it for you. Of course this will cost you a bit more. We did the whole thing in Pokarah at the office and it was easy and fast.

No there is no way to get money on the trail. You need at least about 2000 Nepalese rupees per day. Take some more with you and you can enjoy the trail without stress.

All maps for the individual treks can be found in numerous stores in Kathmandu and Pokarah. You do not have to buy maps from Germany. Otherwise there is the trekking guide from Lonely Planet.

Check out the official ACAP PDF Guide in our Downloads. You can buy a map of the Annapurna Circuit in Pokarah or Kathmandu.
Gallery of
How to trek the Annapurna Circuit - 17 amazing days